Moor Hall wins Sutton Coldfield Large Business of the Year Award

Moor Hall picked up a top award at the Sutton Coldfield, Lichfield & Tamworth Chambers of Commerce annual awards on Friday 24th January 2020.
The winners of the fourth annual Sutton Coldfield, Lichfield & Tamworth Chambers' awards were revealed at a glittering event at The Belfry Hotel & Resort and hosted by Aston Villa TV commentator Jack Woodward.
There were seven awards presented at the dinner which celebrated the success of businesses from across the three geographical areas. Moor Hall Hotel & Spa were shortlisted for the Sutton Coldfield Large Business of the Year award.
Michael Webb, Chairman at Moor Hall who purchased the hotel in 1961 commented: "We are thrilled to have won this worthy accolade. As a large business in the area we take our contributions to the local community, local workforce and corporate social responsibility seriously.
"In the last year we have invested in our employee welfare with the Thrive at Work scheme, supported local charities including our charity of the year YMCA Sutton Coldfield, made a series of continuous improvements to minimise and control our impact on the environment, invested in our facilities which included a £100k refurbishment of the gym and supported local schools and colleges".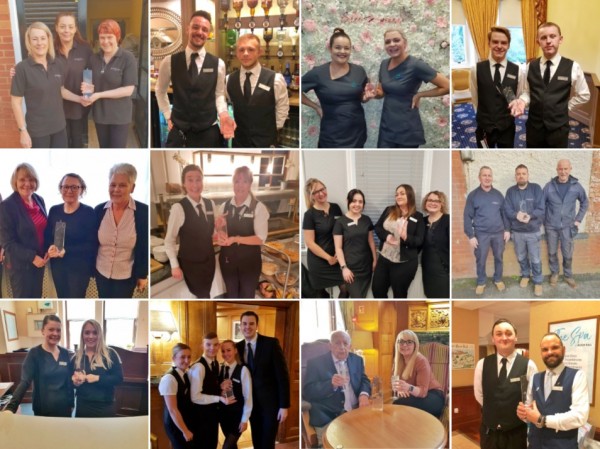 Positive Contributions to the Local Community
Moor Hall is passionate about making positive contributions to the local community. In 2019 our wedding co-ordinator Jo Dewhurst was awarded the Above & Beyond Award at the prestigious national Blue Badge Awards held in London. Jo had organised a wedding at Moor Hall earlier in the year for a couple with severe cerebral palsy and pushed through accessibility improvements at the hotel including the construction of a permanent ramp in our sunken garden and the refurbishment of our accessible bedroom.
Moor Hall supports British Food Fortnight every year in September / October. We do this by promoting our locally sourced food and inviting students from Arthur Terry School to work in our kitchens for a few hours to help prepare dishes and learn about the hospitality industry.
Moor Hall receives requests to support charities every day and has a policy to support local community projects where possible. In 2019 Moor Hall has donated over 30 prizes to local charities worth over £2,000 with another 100 prizes donated in 2017 and 2018.
Positive Contributions to the Local Workforce
We currently have a number of chef apprentices in our kitchen at Moor Hall which are run in collaboration with UCB. The apprentices spend 4 days a week in our kitchen and 1 day at UCB.
This year we began a management development programme to upskill and empower our current managers plus Mental Health Training.
We have been working with Hive College to offer work experience to students with special educational needs and disabilities.
We also reward our staff with schemes such as Employee of the Month, Long Service Awards, Staff Appreciation Week and CARES rewards which they can redeem for vouchers or products.
Corporate Social Responsibility
Every year Moor Hall supports a local charity and throughout the year the employees and guests are encouraged to help raise money and increase awareness for the chosen charity. In 2019 Moor Hall supported YMCA Sutton Coldfield and raised over £5,000 for the small, self-funded charity. We achieved this by taking part in the Sleep Easy event at Sutton Gracechurch shopping centre in March, hosting a Ladies' Ascot Day Lunch in June and hosting a Moth Ball in October as well as other small internal events in the hotel.
Moor Hall is committed to minimising and controlling our impact on the environment through a series of continuous improvements. We have invested in a bio mass boiler which supplies the heating and hot water for 32 bedrooms; installed solar panels to power the laundry and maintenance buildings; our food waste is sent to an Anaerobic Digestion Plant; reduced single use plastics in the hotel and investing in a chemical free cleaning system; promoted a Wellness Walk in our woodlands for hotel guests which includes a wish tree and fairy door trail.
Welcoming Guests from Near and Far for over 50 Years
Moor Hall is committed to attracting tourism to the area. Every year we welcome over 30,000 guests to our hotel. We work with local tourism attractions including Drayton Manor, Snowdome and Twycross Zoo to attract leisure tourism to the area and work with many corporate businesses to provide a home from home to their clients staying on business.
Moor Hall is committed to delivering our cultural values. Moor Hall is owned by the Webb family who bought Moor Hall in 1961 and have been creating wonderful guest experiences for over 50 years. Being a family owned business really helps us deliver our cultural values and we reinvest every year into improving the business.
Moor Hall is committed to continually improving our service and standards. We have 2,658 TripAdvisor Reviews (4 out of 5 stars) and our restaurants are both in the top 10 in the area. We have 984 Google Reviews (4.4 out of 5 stars) and 909 reviews on Facebook (4.5 out of 5). We constantly review and improve our services and products and invest so that we are the first-choice hotel for guests and team members, providing the best standards of hospitality through a happy, proud and professional team.
---