On your favours it says you are "Lucky in Love" - tell us a little about how you met and how Jason proposed.
Jason and I met when I was out with my friend in Lichfield one evening. Jason was in the club doing close up card tricks - he came over to show us some card tricks and ever since then, magic, and especially playing cards, has been a big part of our relationship!
Jason proposed to me while we were enjoying a weekend in London. We were on the London Eye and some lovely tourists who were sharing our little pod captured his proposal on video for us! We also have lots of photos which they sent to us so we can remember the special moment.
Why did you choose Moor Hall Hotel & Spa for your wedding reception?
We went to have a look at several venues for our wedding reception but when we walked in to Moor Hall we both had an instant feeling that this would be the perfect place for our special day. We loved everything about it and we were lucky as the Charter Suite was set up for a wedding that was taking place later that day so we could see exactly what the room would look like. We discovered that the Charter Suite is also a great venue for an evening party!
What did you love most about your wedding day?
It is so hard to choose one thing as we really did love everything about the day, from start to finish. The main factor was that we didn't have to worry, as absolutely every tiny detail was taken care of. Everything we had planned over the previous 2 years was handled perfectly by the staff at Moor Hall so we couldn't have asked for a better day! It was a particularly lovely moment during the wedding breakfast when I sat back and could see all of our guests chatting, laughing and enjoying the gorgeous food.
The reception looked like it was great fun, can you let us into the secret of what you were laughing about in the speeches?
Oh the speeches were all absolutely brilliant and full of laughter! I have to say that it was mostly at the groom's expense, about past events and experiences, but he took it all in his stride. The speeches were a highlight of the day and were enjoyed by all.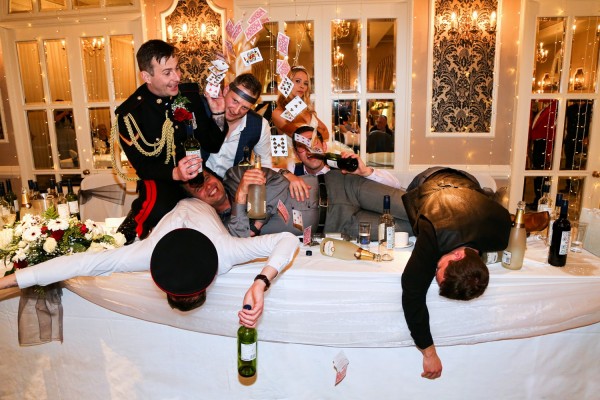 What was your inspiration for your wedding colour scheme and what made you choose the playing cards theme?
We chose platinum grey as we both love it, so much so that it is the main colour scheme throughout our home so it totally suited us! The grey contrasted well with our other colours, especially our white bouquets and red button holes. Playing cards were an important part of how we met so they just had to feature somehow!
Tell us a little about the finishing touches and how you chose them – your stationery, favours, flowers etc.
We chose to have a playing card /Las Vegas themed table plan which we absolutely loved and it fitted in perfectly with our theme! We gave our guests playing card chocolates in a cute little pocket as favours - they were very yummy and everyone enjoyed them. We wanted to keep our flowers nice and simple so we chose giant martini glasses filled with white roses, gerberas, greenery and gypsophila for our table centre pieces and they looked amazing.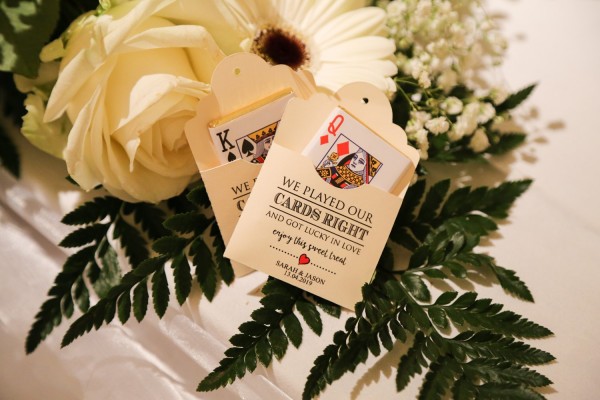 What did you choose to eat at your Wedding Reception?
Our food was delicious! We chose crab fish cakes with a sweet chilli sauce to start, then we had a chicken and leek velouté soup, followed by the leg of lamb with roasted potatoes and vegetables and we finished off with a chocolate brownie and pistachio ice cream. All of our guests told us that they thoroughly enjoyed the food!
Do you remember everything that happened on the day?
Yes we honestly do - even though the day went so quickly we really did enjoy and take in every single moment. We couldn't have asked for a better day and so many of our guests commented on how wonderful it was.
Would you recommend Moor Hall for couples who are looking for a venue for a wedding reception?
Yes 100%! We really believe we could not have chosen a better venue for our special day. It was everything we could have wished for and more and it is a day that we will remember forever! We would recommend Moor Hall to any couple as they will be blown away just as we were, and they will create some wonderful memories that will last a lifetime