Can you tell us a little about how you met and how Trevor proposed?
Trev and I met on an 80s weekend at Butlins in Skegness – luckily, we were not dressed as Madonna and Freddie Mercury as some people were! Trev proposed 18 months later on Christmas Day, which was just 17 days before our first child was born so it was a very special Christmas that year.
Why did you choose Moor Hall Hotel & Spa for your wedding reception?
We looked at quite a few venues but we decided on Moor Hall for our wedding reception as we fell in love with the beautiful grounds and stunning setting.
On the morning of your wedding you and the Bridal Party got ready at Moor Hall – why did you choose to do this and what was the atmosphere like?
I decided to get ready for the wedding at Moor Hall as my parents had very recently moved from our family house. The atmosphere at Moor Hall was relaxed and fun and it was lovely for us all to be together in the same room while we had our hair and make-up done. I know there is now a specially designed new Bridal Preparation Suite which looks even more amazing!
All the staff were extremely helpful and did everything they could to make the morning extra special for me, my mum and my bridesmaids.
What did you love most about your wedding day?
I couldn't get over the fact that all the little details of my dream wedding day that had been in my imagination had actually come together in reality – it was really magical to see!
Can you tell us a little about the speeches at your reception, it looks like you even had a slide show! What do you think about brides making a speech?
There were lots of laughs and a few tears in the room whilst the speeches were taking place. I really wanted to say a few words to our family and friends but obviously not every bride wants to speak. It's really down to how brave the bride is feeling on the day – I found a few glasses of prosecco helped me by giving me some "Dutch courage!"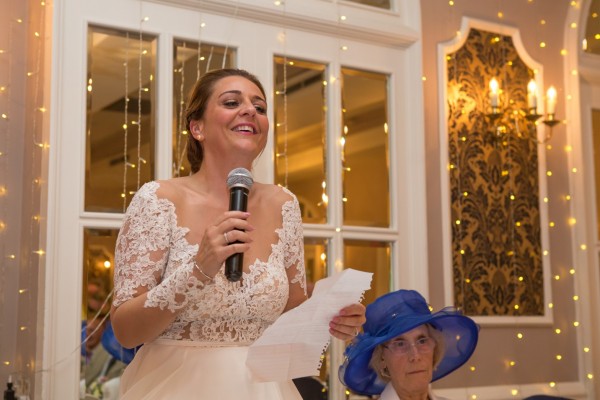 The Charter Suite looked stunning for your Reception - what was your inspiration for your pretty wedding colour scheme?
It wasn't too hard really as I have always loved pink and I knew I wanted a slight vintage feel. I was over the moon with how the room looked on the day - it was all down to Kerry and her team at Sorella Event Decor for making my dream come to life.
Tell us a little about the finishing touches and how you chose them – your stationery, favours, flowers etc.
We first fell in love with a stationery design from Tree of Hearts and the design gave us inspiration for the rest of the theme for the day. The pretty iced biscuit favours and the cake were courtesy of Paula Hill from A Cake To Remember who was very helpful and did a wonderful job.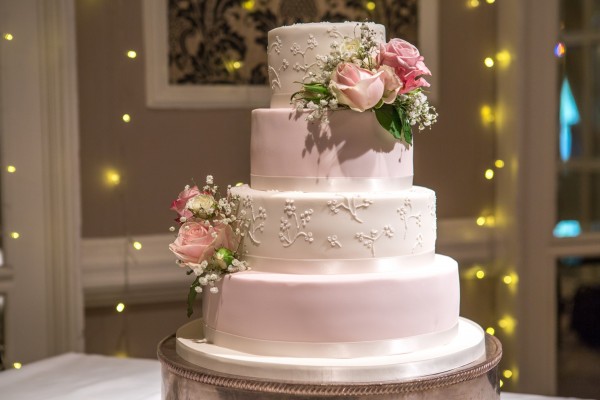 It's quite common for children not to be invited to weddings – what are your thoughts?
My view is that if children aren't invited to the wedding then the parents can totally relax and enjoy both the day and the evening reception without any worries. This is just my personal preference – at our wedding we just had our children and the bridesmaids who were all very well behaved!
Tell us about the food – what did you choose?
We selected our wedding breakfast meal on the basis that everybody would like it and they did! We chose a smoked salmon starter followed by leek and potato soup, then roast chicken stuffed with spinach with new potatoes and vegetables for main course and raspberry cream brûlées for dessert. We opted for a finger buffet in the evening which went down really well with all our guests.
Which song did you choose for your first dance and why?
Our first dance was to Luther Vandross' "So Amazing" - the lyrics say it all...
Would you recommend Moor Hall for couples who are looking for a venue for a wedding reception?
I would 100 % recommend Moor Hall to any couple looking for a wedding venue. Stunning grounds for photos, friendly staff, great food and plenty of rooms for everyone to stay over, Moor Hall has it all!
Is there anything you'd like to add?
From early morning to late at night the team at Moor Hall couldn't have done any more to accommodate us and to make the day as special and memorable as it could possibly be.
I would like to thank the Moor Hall team again for all their hard work and friendly professional approach which made our wedding a truly amazing day and one that we will remember forever.