Tell us a little about how you met and how James proposed.
I used to work in an ice rink where James was a regular customer. It wasn't love at first sight for us - it was about 3 years after first meeting that we began to see each other in a new light after an evening out with friends. After that night it didn't take long for us to realise how much we actually liked each other! Our proposal wasn't particularly romantic - we had been together for 7 years, living together for 3 years and we had a 1 month old daughter, when one day James turned to me out of the blue and asked if I would like to go to the Jewellery Quarter to buy a ring. It took me a moment to realise what sort of ring he was talking about, but when the penny dropped I said yes straight away! I know it's not a typical hearts and flowers proposal but I was happy because it meant I got to choose the exact ring I wanted!
Why did you choose Moor Hall Hotel & Spa for your wedding ceremony and reception?
As soon as we walked into the Charter Suite we fell in love with it and we said yes to each other straight away. Moor Hall just felt so warm and welcoming and the Charter Suite is very elegant. The beautiful grounds and gardens were a big deciding factor for us as we knew we'd get great photos there and we definitely did. We also wanted a venue that would be right for the whole day as we wanted to get married and hold the wedding reception and the evening party at the same venue and Moor Hall was the perfect size for our guests. When I saw the Charter Suite set up for a ceremony I could easily picture us there saying our vows, so we went ahead and booked it that same day. After booking we visited twice more for Wedding Fayres and every time we came the staff were so attentive and friendly that I became more and more sure that we had made the right choice.
What was it like getting ready at Moor Hall on the morning of your wedding?
It was amazing. The rooms were so comfortable and big enough for us all to get ready in there. I felt so relaxed because I didn't have to be ready really early as it was just a 2 minute walk from my room to the ceremony. The staff brought bacon sandwiches to the room for breakfast even though they weren't on the breakfast menu because we really wanted them! Jamie came up to make sure that everything was okay and he went through all the timings for the day which really put me at ease - he couldn't do enough for us all. Our room overlooked the car park so we could see all our guests arriving which made it all the more exciting knowing it was all becoming real!
What was your favourite moment of your wedding day?
An obvious highlight was seeing each other for the first time as I walked down the aisle, however after the ceremony we had half an hour before we started having our formal photos taken when we got to meet and chat to our guests. As the weather was so nice and sunny it was just such a lovely atmosphere as everyone was enjoying a drink in the garden and we were on Cloud 9 after saying our 'I dos'!
We noticed that you had a card on the tables asking guests to share photos on Instagram but we know that some couples decide to ban phones at weddings to avoid people uploading photos of the wedding without their consent. What's your view? Did you like the photos that were uploaded to Instagram?
We had some guests that couldn't be with us on our wedding day so we wanted them to see photos as soon as they could. Knowing that I wouldn't have my phone with me all day I thought if people started uploading photos straight away with a hashtag everyone would be able to see them. I also knew that I wanted to wake up the next morning and sit in our bed and re-live our day by looking at our guests' photos and we really enjoyed doing that. It also made it much easier for me to have photos on my phone without having to wait for the official ones!
What was your inspiration for your wedding colour scheme?
We got married on Easter Sunday so Easter was our theme. We based everything around bright spring colours with yellow and blue being our main focus. We did put a lot of trust into Sorella, our wedding stylist, and asked her to dress the room and arrange our flowers by just telling her our theme. She really did work her magic and she made everything look so much better than I could have expected.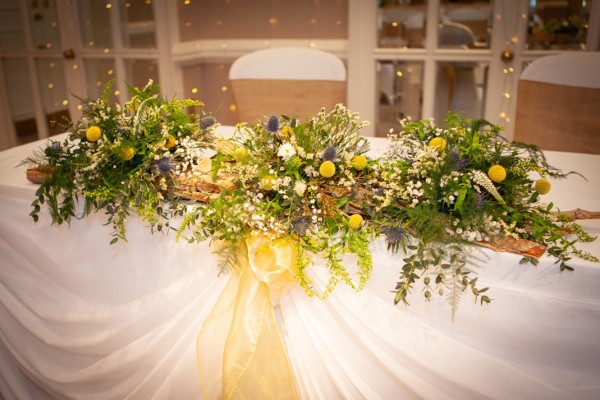 Tell us a little about the finishing touches and how you chose them – your stationery, favours, flowers etc.
With Easter as our theme we chose natural wood, spring flowers and chocolates. Our stationery was very rustic and my Dad actually cut the wooden logs for our centrepieces and the cake stand himself! Our favours just had to be Cadbury's creme eggs and we gave all the children little Easter activity packs and chocolate eggs.
What do you think about inviting children to weddings?
We didn't give a second thought to having children at our wedding. Our 18 month old daughter was our flower girl and she definitely stole the day - all eyes were on her and I wouldn't have had it any other way! My 2 bridesmaids were my young nieces and we have a lot of children in our family so it wouldn't have been right for us to not have children running round and enjoying the day as much as we did.
Tell us about the wedding reception food – what did you choose?
We chose ham hock terrine as a starter, rack of lamb for main course and lemon tart for dessert and it was all so amazing. The portions were that good that by the time the evening buffet came out we were still too full to enjoy it as much as we wished we could! Lots of our guests told us how nice it all was.
Do you remember everything that happened on the day?
We actually do. You always get told it goes by too quickly so we made a point of stopping every now to and take it all in. We didn't invite many guests for that reason, we wanted to be able to be with everyone who was there and not just a few.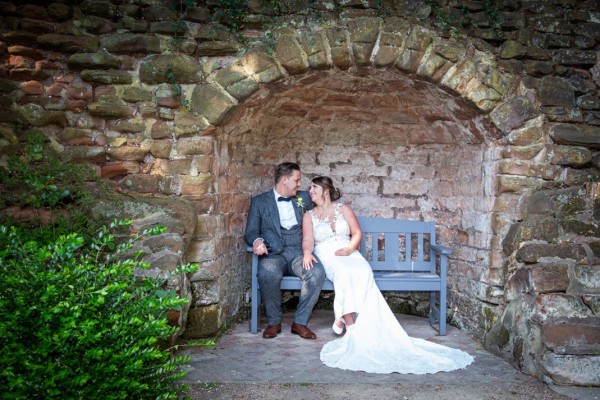 Is there anything you'd like to add?
Just again thank you to all the staff at Moor Hall, especially Jo, our Wedding Co-ordinator, in the build up to the day and Jamie, the Banqueting Manager, on the actual day for creating a perfect wedding day that we will never forget.