Celebrating 45 Years of Best Western Membership

Moor Hall Hotel & Spa were delighted to recently be presented with an award from Best Western in recognition of achieving 45 years' membership (Best Western and Interchange Hotels).
We asked our chairman Michael Webb to tell us how he came to be involved all those years ago:
"It started off with a consortium called Interchange Hotels in which likeminded hoteliers swapped and displayed each other's promotional leaflets in the reception areas of the hotels. Guests could pick up a brochure for a similar hotel in a different part of the country. Moor Hall joined this group in 1967. We formed a company and I joined the board in the mid-1970s. Membership rose to over 130 hotels as the methods of marketing became more and more sophisticated.
"In 1980, on my 50th birthday, I became the chairman of Interchange and soon after decided there was a need to become more international with our marketing and we started to investigate other consortia, first in Europe, and then further afield in the US and Australia.
"We came across a consortium called Best Western in the US which had been going since 1946 along the same principles as Interchange. After extensive talks with Best Western it was decided to go with the Best Western name and I remember clearly the enormous piles of paperwork when we converted interchange into Best Western in 1980.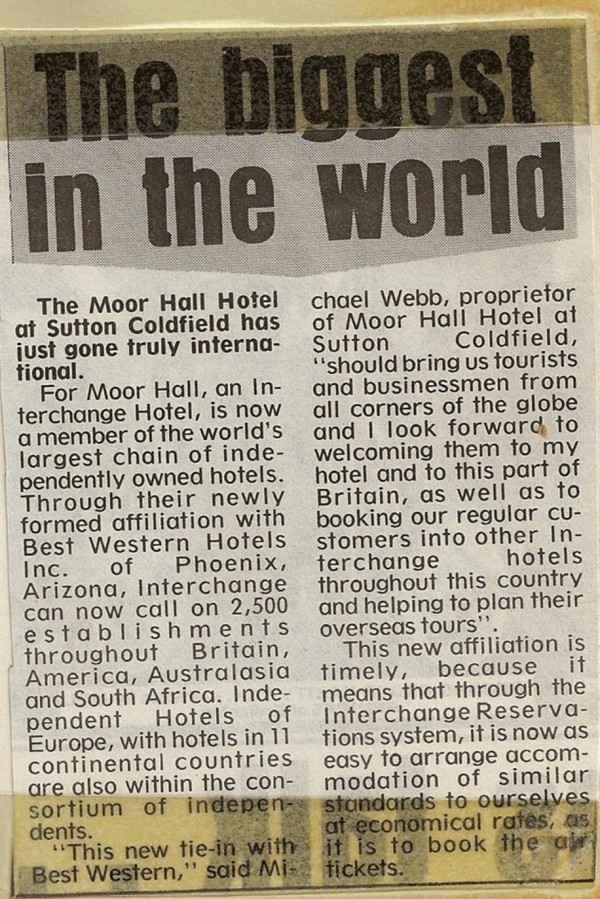 "We then looked to Europe to investigate which hotel groups would be suitable to join us. I spent a considerable amount of time travelling and negotiating and ended up with agreements with Mapotel in France, Swiss Hotel in Switzerland, Deutsche Hotels in Germany and others in Ireland, Holland, Belgium, Spain, Italy and Portugal. We founded Best Western Europe with offices in Frankfurt and I was chairman for the next five years.
"These were marvellous years with fabulous memories of meeting great colleagues in the hotel business, not only in Europe but in Australia and New Zealand too. Of course we made many new friends, particularly in the US, with constant visits to Phoenix, Arizona where Best Western International had its headquarters.
"A little over a decade later, in 1995, when I was still on the board of Best Western GB, my wife, Jean became the second member of the family to join the board as chair of the marketing committee. More recently, my daughter Angela joined the Best Western GB board in 2011 and became the first female chair in the UK in March 2013."
Moor Hall became the first UK hotel to achieve Premier status by Best Western in 2003. We are still proud members of Best Western GB and they continue to promote and market our independent hotel nationally and internationally.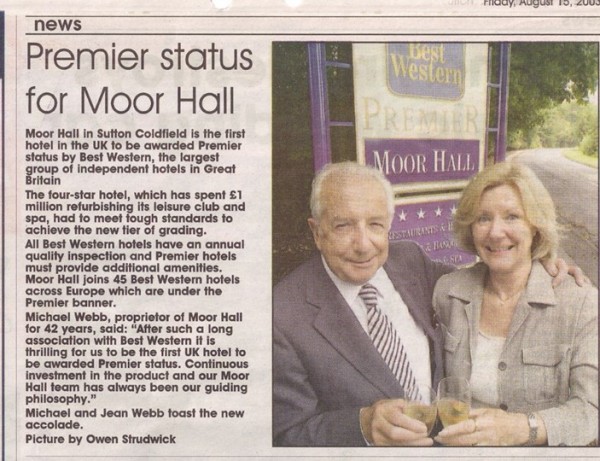 ---