Takeaway St Patrick's Night Dinner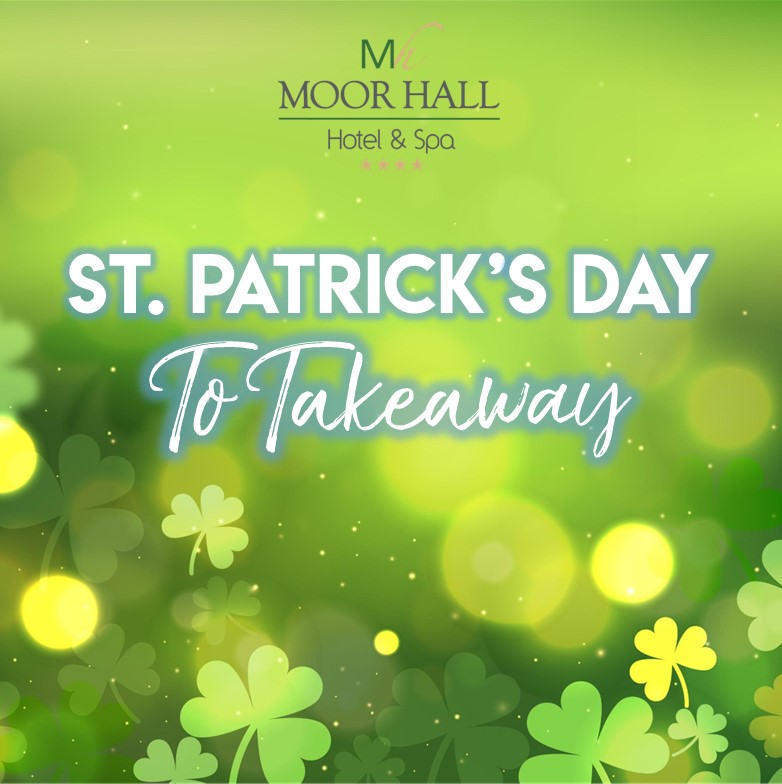 Celebrate St Patrick's Day on Wednesday 17th March at home this year with a delicious 3 course themed meal from Moor Hall Hotel & Spa.
Are you looking for a reason to celebrate during lockdown? Our Irish themed three course dinner is the perfect reason to celebrate the emerald isle! Our talented chefs will prepare a delicious 3 course menu for you to enjoy at home. Plus we will include a gift from Moor Hall, some Irish props and some games for you to enjoy. Click here for some ideas
3 Course Meal: £35 per person
Starters
Potato & leek soup, Irish soda bread V
Smoked haddock fish cake, garlic aioli
Chicken rillettes, celeriac remoulade
Main
Thyme roasted pork chop, seared cabbage, parsnip, potato mash
Classic Irish lamb stew, dumplings
Quorn and Guinness stew, colcannon V
Dessert
Baileys cheesecakeChocolate and Guinness tartSticky toffee pudding,
whiskey toffee sauce
To order please call 0121 308 3751 or click here to book your dinner online. Please email us with your menu choices and your pick up time. Pre-payment must be made before 2.30pm on Friday 12th March. Collection is from our hotel reception between 10am and 4pm on Wednesday 17th March . Please make us aware of any allergens at the time of ordering.
Feedback from our previous takeaway specials:
"The Burns Night Supper was excellent. The food was really good and well prepared and presented with instructions on how to cook very useful. The flags, dance instructions and Ode to the Haggis poem were great touches and brought the whole experience together".
"The New Year's Eve menu was wonderful. We really enjoyed the food and felt it was easy to follow the instructions and we were well stuffed! If felt very special (we even changed into 'going out' clothes!) My husband did however miss having someone to take our empty plates into the kitchen!"
"Just wanted to say thank you for our beautiful meal last night. We thoroughly enjoyed it! We look forward to visiting once 'normal' life resumes".
"Had the New Year's Eve takeaway last night and it was brilliant. Thanks to all involved. Lovely idea for a special occasion and hope you will do more."
"We ordered 2 dinners for our older parents as a Christmas treat this year. Delighted to tell you that the 4 course dinner was beautifully packaged and ready for colection at the pre-arranged time and every course of the prepared meals tasted superb. Thank you Moor Hall!"
---