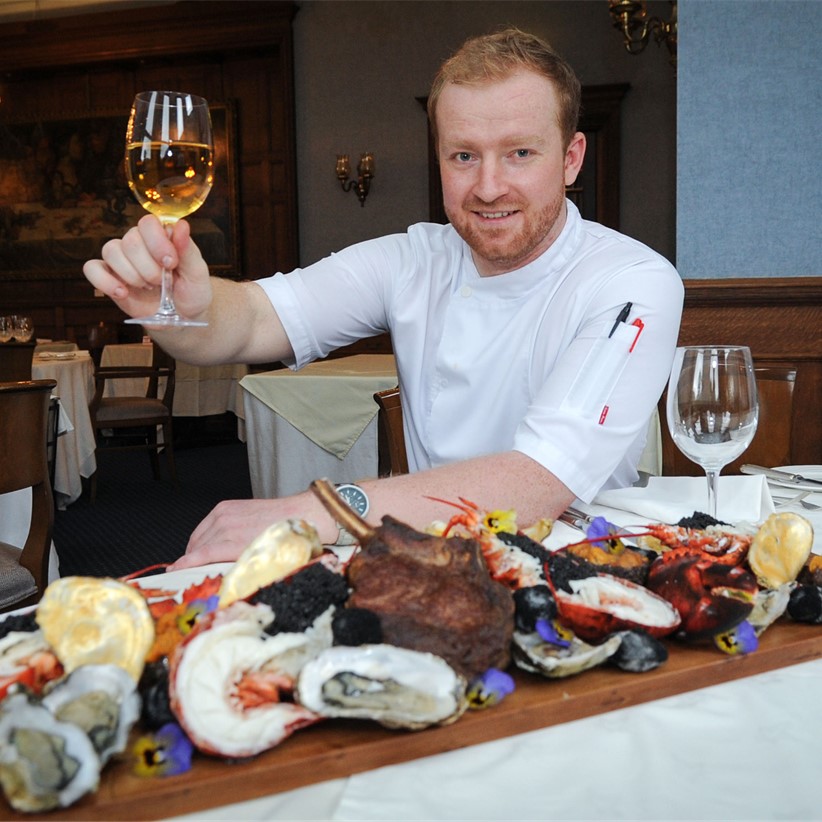 Sutton Coldfield Chef Cooks Up £250 Menu to Celebrate Massive Jackpot
This Friday's (8 February) EuroMillions jackpot is an estimated £123M* and our chef Zach Meares-Davies is set to serve up a flamboyant feast to celebrate – a £250 deluxe dining dish worthy of a massive multi-million-pound win.
Zach Meares-Davies, Sous Chef for Moor Hall Hotel's 2 AA Rosette Oak Room Restaurant has created the millionaire's version of the classic surf 'n' turf. But there's no place for scampi and rump steak! This delectable dish is filled with lobster, sea urchins, oysters and the succulent Kobe beef, all to be washed down with the finest champagne. The special magnificent millionaire menu was created by Zach to celebrate the massive rollover. Priced at £250 per couple this flamboyant feast will be available for two nights only, the evening of the draw (Friday 8 February) and Saturday 9 February 2019. Customers are asked to call the hotel on 0121 308 3751 now to book this amazing dining experience.
The menu is the brainchild of Sous Chef and fine dining expert Zach Meares-Davies. He said: "I love the lottery and I love dreaming about what I would do with such a life-changing amount of money. After helping my family and friends financially I'd certainly prepare the finest feast for them with the most expensive ingredients. It would be a chef's dream."
Zach continued: "I love fine dining and if money was no object, this is what I'd serve. Fingers crossed someone in Sutton Coldfield and the West Midlands will be able to taste such deluxe dining, having won big on Friday night."
If won by a single ticket-holder the whopping jackpot would create a fabulous February for the winner as they would become the UK's third biggest National Lottery winner ever.
According to The Sunday Times Rich List 2018, if one winner scooped the entire £123M jackpot they'd have an immediate 'bond' with Daniel Craig and Rachel Weisz over their combined fortune, which stands at around £125M. With their newfound wealth the ticket-holder would also 'floor' boxing promoter Barry Hearn's £115M riches.
Andy Carter, The National Lottery's Senior Winners' Adviser said, "Imagine becoming one of Britain's biggest winners ever. With that giant cheque you'd have more than enough to change the lives of the people close to you and spend your days travelling the globe. In fact, you could do pretty much anything you like!
"EuroMillions players help raise the £30M plus that The National Lottery gives to Good Causes each and every week. This supports projects big and small across the country, including funding everything from local community projects to saving the nation's heritage."
UK EuroMillions players have well and truly been on a lucky streak in recent months. In the lead up to Christmas 2018 Andrew Clark from Boston finally came forward after six weeks to claim his £76.3M EuroMillions jackpot, while Patrick and Frances Connolly from Northern Ireland became the UK's fourth biggest ever National Lottery winners when they scooped the entire £114.9M EuroMillions jackpot on New Year's Day.
Currently the biggest lottery win in the UK is Colin and Chris Weir from Largs who won £161M on EuroMillions in 2011.
*estimated
---