Burns Night Supper to Takeaway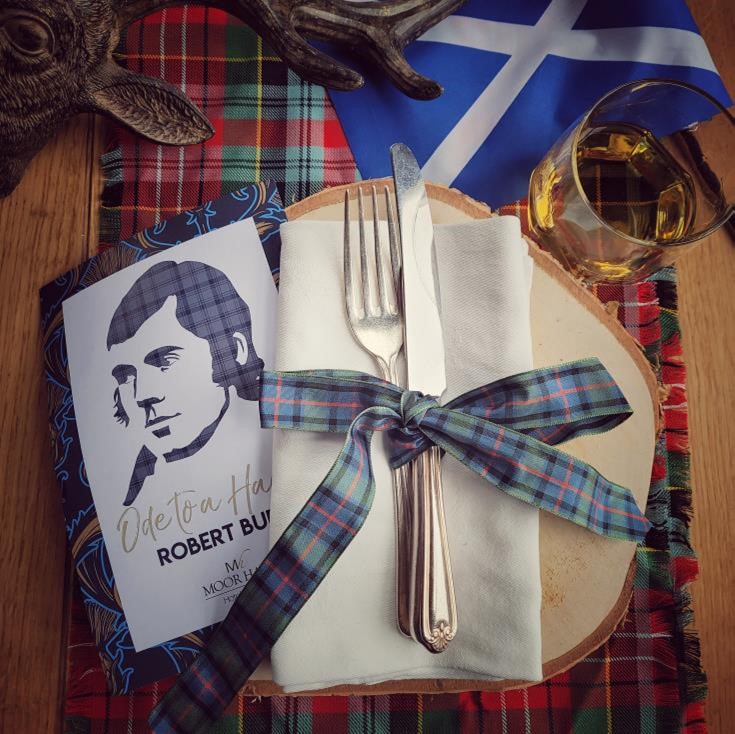 Celebrate the birthday of Scotland's most loved bard at home this year with a delicious takeaway from Moor Hall that includes all that is best from the north of the border.
We also include the poem 'Ode to a Haggis' to recite and some simple dance instructions so you can try some ceilidh steps at home!
Our talented chefs will prepare your Scottish three-course menu below for you to reheat at home and enjoy from Saturday 23rd January.
About Burns Night
Burns Night is a great occasion when many dinners dedicated to his memory are held all over the world. The ritual of the Burns Supper was started by close friends of Robert Burns a few years after his death and the format remains largely unchanged today, beginning with the chairman of the supper inviting the assembled company to welcome the haggis. The poem 'Ode to a Haggis' is recited and the haggis is then toasted with a glass of whisky.
£35 per person
To order please call 0121 308 3751 or email [email protected] with your menu choices and to pre-pay before Wednesday 20th January. Collection is from our hotel reception between 10am and 4pm on Saturday 23rd January. Please make us aware of any allergens at the time of ordering.
Menu
To Start
Cullen skink: smoked haddock, potato and onion soup
OR
Confit chicken and leek terrine, apple and raisin chutney
OR
Leek and potato soup V
To Follow
Corn fed supreme of chicken stuffed with Scottish haggis,
tattie puree, salt baked neeps, creamed leeks, red wine gravy
OR
Slow roasted cider marinated belly of pork,
crackling crisps, tattie puree, salt baked neeps, creamed leeks, gravy, caramelised apple gel
OR
Butternut squash and haggis wellington
tattie puree, salt baked neeps, creamed leeks, red wine gravy V

To Finish
Scottish cranachan cheesecakes,
whisky marinated raspberries, toasted oats V
OR
Chocolate caramel tart,
caramel, malted milk ganache, cocoa nibs
Who Was Robert Burns?
Born on 25 January 1759, Robert 'Rabbie' Burns is the best loved Scottish poet, admired not only for his verse and great love-songs, but also for his character, high spirits, 'kirk-defying', hard drinking and womanising!
Burns contributed over 300 songs, many of his own composition, and others based on older verses for the Scots Musical Museum. Burns died aged 37 of rheumatic fever which he contracted after falling asleep at the roadside (after a particularly vigorous dinking session) in pouring rain. The last of Burns' children was actually born during his funeral service.
Burns will never be forgotten as his poems and songs are still as popular in Scotland as they were when first written.
Feedback from our previous takeaway specials:
"The New Year's Eve menu was wonderful. We really enjoyed the food and felt it was easy to follow the instructions and we were well stuffed! If felt very special (we even changed into 'going out' clothes!) My husband did however miss having someone to take our empty plates into the kitchen!"
"Just wanted to say thank you for our beautiful meal last night. We thoroughly enjoyed it! We look forward to visiting once 'normal' life resumes".
"Had the New Year's Eve takeaway last night and it was brilliant. Thanks to all involved. Lovely idea for a special occasion and hope you will do more."
---